One BIG FOOT of Customer Service!
A business associate of mine, Bob Downs, invited me to watch the Bellarmine University Knights play their final regular season home game the other night. Bob is a very successful banking consultant, highly connected, which meant that we had access to the President's box for the big game. There were many other people in the box, all smarter and far more successful than I.
In an effort to look sharp for the big game I wore my best leather boots. The Bellarmine Knights are currently rated #5 in NCAA division ll men's basketball, and I was determined to look snazzy for the game. The closest parking spot I could find was about ¾ of a mile away. As I was walking to the arena, the heel and half the sole on my left boot detach. So, I was walking along, still with at least a half mile to go, and my boot is going clunckety, clunckety, clunckety as I was walking. I'm not worried because there is sure to be help in the President's box. But alas, there are no nails or super glue to be had.
Dana Kleinman, a helpful and vivacious young host in the box, finds a heavy rubber band to hold the boot together.  I look ridiculous but at least there is no more clunckety, clunckety when I walk, and I have supplied everyone in the box with unexpectedly funny entertainment with my rubber band.  Finally, Dana says, "You should go see my father tomorrow, he owns Kleinman Shoes and he can fix any shoe."
Deal!
The next day, I visit Dana's father, Alan Kleinman, at Kleinman's Living Shoes. I show him my clunckety boot and he replies, "I don't deal with off-the-shelf shoes." After I tell him I was sent by his daughter, he invites me into the inner-sanctum of his operation to show me his unique business.
He makes shoes from scratch!  Mr. Kleinman is a modern-day version of The Elves and the Shoemaker!
His workshop is loaded with equipment and materials that he uses in his craft. Mr. Kleinman makes shoes for people that have a hard time getting comfortable shoes, and one of the basic steps in his artistry is making a plaster cast of the customer's foot.
Six years ago, Mr. Kleinman read about a giant of a man that suffered his whole life with ill-fitted shoes,  so he reached out to Igor Vovkovinskiy, a 7 foot 8 inch, 520-pound man who wears a size 25 shoe to let him know that comfortable shoes could be made and was willing to prove his claims for free. Understandably, Mr.  Vovkovinskiy was full of doubt, having suffered so long with painful feet in poorly-fitted shoes.
Alan Kleinman fitted Igor Vovkovinskly with the most comfortable shoes, the ONLY comfortable shoes he has ever worn—–AND he still wears them … AND … when he needs new shoes he gets them from Kleinman Shoes.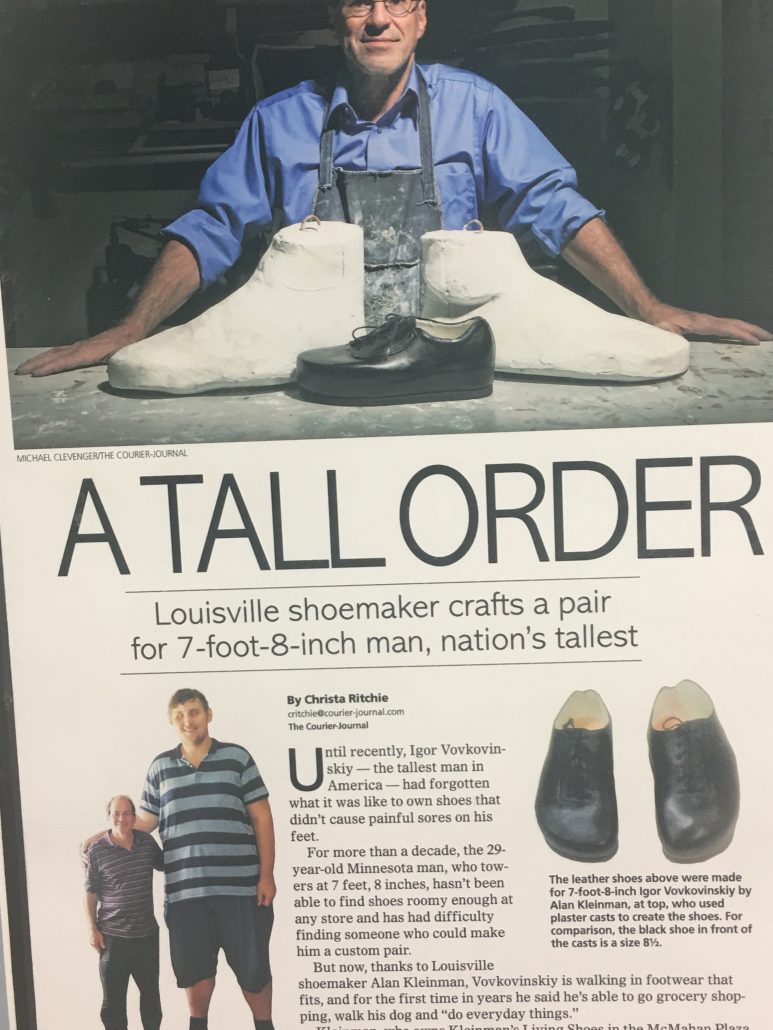 Mr. Kleinman provides customer service to all his clients whether or not they happen to have size 25 feet. He fixed my floppedy boots—did it with some kind of 'shoe cement' he found in the deep recesses of his store and then he refused to let me pay him anything.
What a wonderful man. He's been practicing his trade for 45 years, since he was 18 and puts his shoes where his mouth is and proves the worth of his products to the customer.  Not with catchy ads that some ad agency comes up with—he does it with honest certainty in the worth of his product, and honest dialogue with the customers.
Even if the customer has floppedy boots with tiny, size 13 feet.